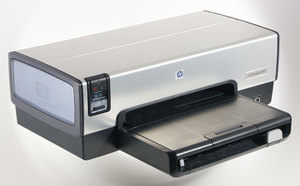 HP Deskjet 6543 Ink Cartridges
These products are guaranteed to work with your HP Deskjet 6543 printer.
HP Deskjet 6543
Hp deskjet 6543 is made especially for home user. It is characterised by sleeker and minimalist design. It can be connected through your computer with USB 2.0 port which is at the back and at front of the printer. Hp deskjet weight is 5.98 kilograms which is quite lighter. It uses 2 ink cartridges and can handle all media types which should not be bigger than A4 size. It contains new configuration system i.e. restarting option, cancellation, switching off and on options and which are easily accessible. Its noise level is only 37dB.