Home
>
Remanufactured HP 22 Colour Ink Cartridge
Remanufactured HP 22 Colour Ink Cartridge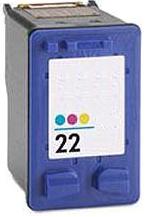 Details
| | |
| --- | --- |
| SKU | 277 |
| Stock Status | In Stock |
| Cartridge Type | Remanufactured |
| Ink Capacity (ml) | 15ml |
| Colour | Colour |
Compatibility
Description
This product is guaranteed to work in the following printers:
Remanufactured HP 22 (C9352AE) High Capacity Colour Ink Cartridge
HP 22 Colour Remanufactured Ink Cartridge
These are compatible cartridges that are highly suitable for all domestic and professional color printing needs. The HP 22 Colour Remanufactured Ink Cartridge are very much cost saving and one can get the best color prints at low cost. Any expectation of professional high quality printing shall be fulfilled by these remanufactured ink cartridges. The ink used in these ink cartridges are the best quality premium ink. These are guaranteed ink cartridges that give long lasting prints and vivid bright colors.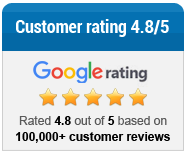 Reasons to Buy
Free UK Delivery
All Prices Include VAT
Unbeatable Prices
Over 1 Million Satisfied Customers
All Products are 100% Guaranteed
Excellent Customer service
100% Secure Online Ordering

FREE UK Delivery

FREE DELIVERY
INCLUDED ON
ALL ORDERS
Mailing List
sign up to our mailing list to receive exclusive offers and discounts