Epson Stylus SX610w Ink Cartridges
These products are guaranteed to work with your Epson Stylus SX610w printer.
Epson Stylus SX610w
With Epson continually giving the market some crackling numbers, it is natural to have high expectations with the Epson Stylus SX610FW. One will be pleased with what it has to offer in terms of its impeccable design as well as performance. The design team has definitely created something brilliant with the black and charcoal 2 tone finish and the curved roof. It also comes with several additional printing functions to make printing less of a monotonous task. The cartridges are pretty affordable, making running costs minimal.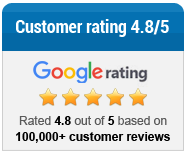 Reasons to Buy
Free UK Delivery
All Prices Include VAT
Unbeatable Prices
Over 1 Million Satisfied Customers
All Products are 100% Guaranteed
Excellent Customer service
100% Secure Online Ordering

FREE UK Delivery

FREE DELIVERY
INCLUDED ON
ALL ORDERS
Mailing List
sign up to our mailing list to receive exclusive offers and discounts