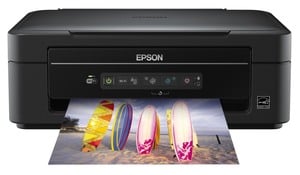 Epson Stylus SX235 Ink Cartridges
These products are guaranteed to work with your Epson Stylus SX235 printer.
Epson Stylus SX235
Brother MFC 460 is an excellent printer in terms of the amount of pages it can print in a minute. This makes it a printer that can be used for a very fast printing task. The quality of the print is also maintained along with the speed and therefore it satisfies the basic necessities of a printer. Not only this, the printer is also able to adapt to a lot many operating systems thereby making Brother MFC 460 a very efficient and easy printer to use.The ones who seek to have a printer which is excellent in terms of quality of print in order to suit the ammeture photography; Epson Stylus SX235 is the best option available in the market. This is a printer that is available at a price which is far less as compared to the other printers that provide the similar features. The best thing about the Epson Stylus SX235 printer is that it gives an excellent quality of prints and is also capable of scanning and copying.